OMR Sheets
OMR sheets are uniquely designed printouts which consist of bubbles, elliptical circles or boxes for marking. OMR software reads and evaluates these markings and processes the information into electronic data. Other names for OMR sheet are Bubble sheet, OMR Answer sheet, MCQ Test sheet, ORS, OMR Test sheet, Objective Response Sheet, etc. You don't need special machines or papers for printing OMR sheets. Using Addmen OMR software, most users design and print their own OMR sheets. OMR sheets can be used for various purposes like MCQ Examination, Recruitment, Feedback Form, Application Form, Admission Form, Registration Form, Survey Form, Questionnaire Sheet, Training & Assessment, Ballot Paper for Polling, HR Projects Outsourcing, Attendance Sheets, Inventory Cards, Process Control Sheets, Award Sheet, Mark Sheet, etc.
OMR Sheet Design
Many different types of blocks can be placed on a OMR Sheet like:
General MCQ Block

(for answers in ABCDE format);

Numeric Block

(for number value or Integer answer in 0,1,2,3..format);

Matrix Block

(for column matching type response or true and false type answers);

Alpha-Numeric Block

(for collecting candidate name and other details)

Image Block

(for capturing candidate picture & signature)

OCR Block

(for capturing Form/Sheet No. from pre printed text)

Barcode Block

(for capturing Form/Sheet No.)
OMR Sheets are created using OMR Sheet Design Software. This OMR form designer is integrated in the Addmen OMR Software.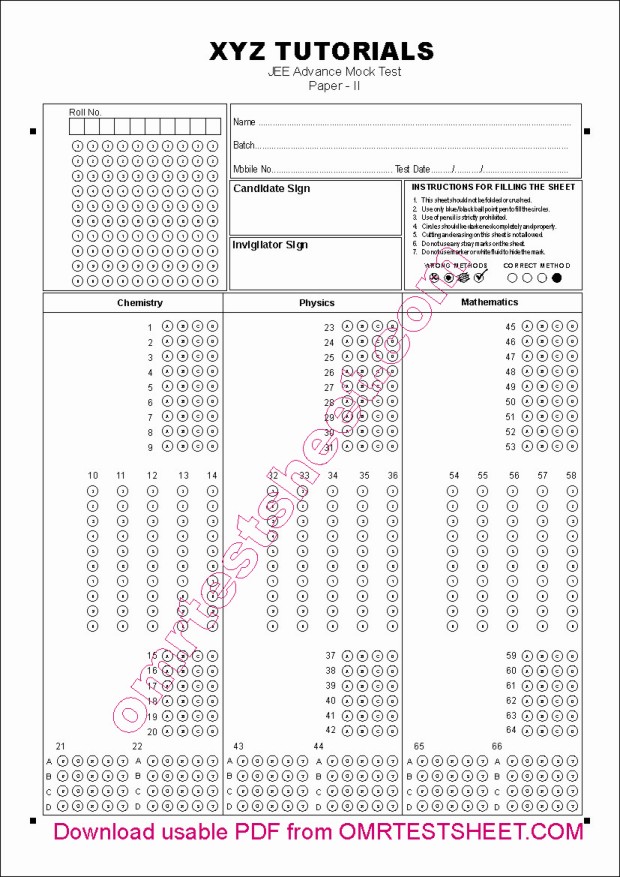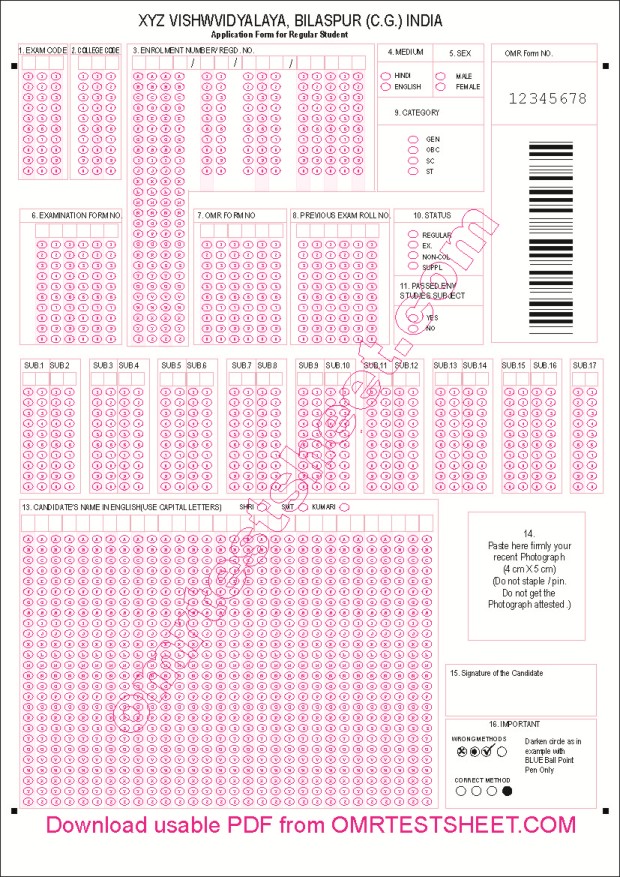 All OMR Sheets have black index points at four corners of the sheet – the most important parameter of an OMR Sheet. Any design just containing bubbles cannot be called an OMR Sheet because it might not have correct parameters and dimensions as per OMR requirements. So it is important that the OMR sheets to be read the OMR sheet checker software are created using the OMR sheet design software.
Many OMR sheet formats are available readymade in the OMR sheet reader software.
More new OMR Sheet designs can be made in any size using the OMR form designer.
OMR sheets can be created in any desired layout and can contain as many MCQ questions or OMR data blocks that can be accommodated on a piece of paper.
Generally an A4 size sheet can easily contain upto 300 question with 5 options. Click here to see OMR sheet samples
Smaller OMR answer sheets can be designed for less no. of MCQ questions in Half A4 size to save paper.
Two sided (duplex) OMR sheets can be also be printed and processed.
Addmen OMR Software automatically calibrates misaligned sheets, manual OMR Sheet calibration is required. Addmen's auto calibration technique saves time and effort, and thus is more accurate. Addmen OMR Software can also calibrate OMR Machine based Sheets based on old test pattern.
Instructions for OMR Sheet Printing
Printing must be done through the Corel Draw file created by the software.
This Corel Draw file can be completely edited according to institutional requirements.
Use PDF for viewing and printing only if Corel Draw is not available.
Use of Papers
Use a white paper as the Addmen OMR sheet scanning software reads scanned images of OMR sheets.
Normal 70 GSM A4 papers to thick sized papers can be used for printing depending upon the user requirements. Thick papers are used to avoid transportation damages.
100% accuracy is maintained for papers of all size and thickness.
You can use 18"x23" size papers for offset printing as well.
Use of Printers
Laser or inkjet printers can be used for OMR Sheet printing. Set printer page setting as 'A4' and check for leaked cartridges.
Use only Corel Draw file and plates for offset printing. Sheets cut must be of equal size.
A good quality photocopier machine can be used for OMR printing. The index points and the bubbles should be very clear. Size of photocopy and OMR sheet design should be same.
Precautionary Measures
Do not tamper with the size of sheet format, circles/boxes, line thickness of bubbles, index points, font/text labels,
Ensure solid and dark printing of index points in any method of printing.
Sheets printed with cuts, tears, misprints and misalignments should be eliminated.
Use colored OMR sheets for ticks or thin stroke markings.
Colored Sheets Printing
Any laser/inkjet or an offset printer can be used for printing colored OMR sheets.
Out of two colors, black is mandatory. Pink, orange or yellow works well as the second color but avoid green and blue shades.
For tick marks, thin stroke impressions and text-labelled bubbles, use 2 colored printing.
Barcode, OCR and Stamped Printing
Avoid stray ink marks in stamped number printing.
Use 16-18 font size with black color for OCR (Optical Character Recognition) printing.
The software can read barcodes and digital numbers printed only through variable data printing.
Paper used for OMR Sheet Printing
The Addmen OMR sheet scanning software finally reads the OMR sheet scanned image so it is not affected by the thickness of the paper.
Normal 70 gsm A4 paper that we use in our laser printers can be used for OMR sheet printing. It is commonly available in the market.
There is no need to use thick paper. If you want, thick paper can also be used. Thickness of paper is only increased if the MCQ test conditions are not proper so there are chances of damage to the sheet or if the sheets are to be transported from long distances and stored for longer time.
Both thin or thick paper are 100% accurate.
Only white paper should be used.
18"x23" size paper can be used for offset printing 4 sheets together.
General Precautions for OMR Printing
Instructions for OMR Sheet Scanning