OMR Sheet Reading Process OMR Optical Mark Recognition
False Assumptions About OMR
There are 2 wrong concepts about OMR sheet checking process that people tend to carry:
Wrong concept 1:
The expensive, traditional OMR Sheet Reader Machines or OMR Scanners are required for OMR sheet scanning process. This is a false assumption.
Wrong concept 2:
Specially designed, thick OMR answer sheets, meant for 2-colour printing must be purchased. This is also not true.
Current Assumptions About OMR
Correct concept 1:
OMR sheet scanning can be done using a regular image scanner. You no longer need to rely on expensive OMR sheet reader machines or OMR scanners, which also come with high maintenance costs.
Correct concept 2:
OMR sheet scanning can be done in black and white. 2-color prints are no longer needed.
Correct concept 3:
Regular printing papers that are 60-70 GSM in thickness can very well be used for printing OMR sheets.
OMR Technology & its Misconceptions
Earlier when OMR (Optical Mark Recognition) technology was commercially introduced into the market, it required a big, standalone setup of traditional OMR sheet reader machine. These machines were expensive and demanded manual operations to be carried out during the sheet reading process. The papers used by these machines were specially manufactured and not easily available. The old scanning machines required high maintenance costs and could only read colored OMR sheets. These lead to two common misconceptions about OMR sheet checking process.
One has to buy a separate, expensive OMR Sheet Reader Machine or OMR Scanner.
One has to purchase thick OMR sheets that are usually used for 2-color printing.
This is not true. The last decade has seen a huge leap in the progress of OMR technology. Use of a software-based OMR sheet reader eliminated the exclusivity of the old OMR technology. The prerequisites for the new OMR sheet reader software technology became simple and cost-effective.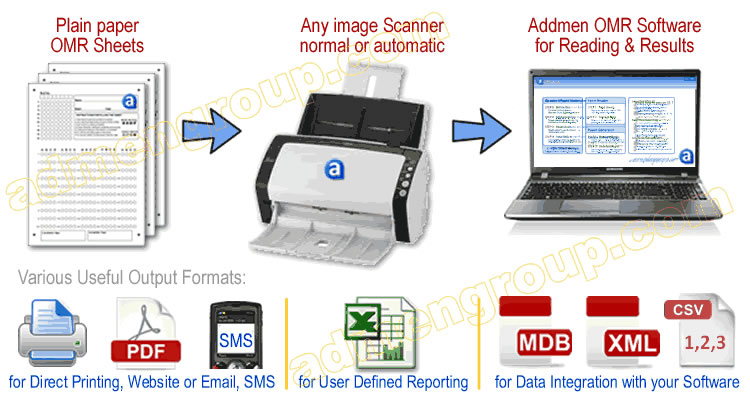 Basic requirements for the New OMR technology
OMR sheet printing process involves printing the design of OMR sheet created by the design module onto a paper using a printer.
Any normal laser/inkjet printer can be used for printing OMR sheets. Photocopy machines or offset printers can also be used depending upon the quantity of OMR sheets to be printed.
A normal white paper with 60-70 GSM in thickness can be easily used for printing.
OMR Sheet Scanning
Addmen OMR software is the principle component in the OMR sheet scanning process.
OMR sheet scanning process involves scanning the filled OMR sheets using a scanner.
Any flatbed scanner (1-by-1 sheet scanning) or ADF scanner (Automatic Document Feeder for many sheets) can be used for scanning OMR sheets.
Advantages of Addmen OMR Sheet Reading
You can create your own designed OMR sheet.
Any printer works well depending upon your requirement.
OMR software is not brand-specific or model-specific and any image scanner can be used for scanning OMR sheets.
Thick papers are no longer needed.
Printing double-sided sheets is also possible.
OMR software automatically corrects tilts, skews and misalignments in the scans occurred while scanning the OMR sheets.
Black & white OMR sheets can be created. 2-color printing is not mandatory.
Use of Addmen OMR software decreases the cost of sheet reading process significantly because you design your own sheets.
OMR Pro comes with professional features which has the accuracy to read even the old patterned OMR designs.
100% accuracy in reading OMR sheets
Delivers quick and automated results
Low-cost setup and maintenance
Scanner Comparison
Scanning OMR sheets is the most crucial process and so you need to estimate your own requirements while selecting a scanner. Let's categorize these requirements based on the speed, workload and budget.
| | | | |
| --- | --- | --- | --- |
| Speed | Price | Model | Use |
| 10-12 sheets/min | Rs. 7000/- | HP4625 | Used by educational institutes with workload of 2000 sheets/day |
| 40 sheets/min (high speed) | Rs. 20000-40000/- | Fujitsu fi6125,6130; Kodak i1210; HP3000 | Used for more professional work with high workload |
Canon (IR 3300---6000); Ricoh, Xerox and other big copier machines can also be used for scanning.
Additional Features of OMR Sheet Checker Software
Test checking, application form reading and question building, all possible in a single software interface
Reads all kinds of question formats like MCQ, True & False, Numerical, Matrix matching, etc.
Supports scanning formats like BMP/TIFF at 100-200 dpi in all color modes
Linking of scanner and the test checker software on the same PC is not essential
Apart from OMR, the software also reads OCR, Image & Barcodes
Supports wide range of reports and charts like statistics, merit lists, graphical & progress charts, etc.
Allotment of several marking schemes like negative, decimal, section-wise multiple marking, etc.
Data can be exported to PDF, Excel, etc.
OMR test results can be uploaded on the website
Can send results via the integrated SMS module
Free data back-up is done regularly on a secure server
Introduction to Addmen OMR-OCR-ICR Software Solution
Addmen OMR Sheet Reading Software Process Overview